Song: "All The Stars" by Kendrick Lamar and SZA
This is a perfect quote for the past week: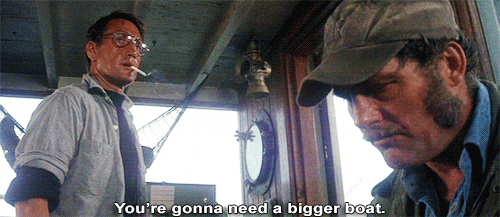 The Winter Olympics are a day or 2 away from wrapping up. There have been some moments that I managed to watch – the Women's Hockey Team winning the Gold Medal; Shaun White's ridiculous runs in Snowboarding; the U.S. Curling team winning the Gold (on replay). However, the Winter Olympics still don't hold my interest and attention like the Summer Olympics. Not knocking the Winter; I just prefer Track & Field and Swimming over Alpine Skiing and Hockey.
It is so refreshing to see how much positive attention Black Panther is gathering, especially in the Black Community. One of the coolest moments I saw was a family with 4 kids who were bouncing out of the theater, running towards a life-size poster of Okoye so they could get a picture.
As a real-time, current events story for the non-local readers: the Ohio River is in moderate flood stage. Meaning: big chunks of the West End, Downtown, the Harrods Creek area, and other parts of Louisville, as well as parts of Jeffersonville, Clarksville, New Albany, and Utica, IN are under water. Nearly 7 inches of rain over a 5-day period have caused the Downtown portion of the Ohio to rise from about 15 feet, past the 23-foot Flood Stage, to 36 feet (as of Sunday morning) … and it won't crest until sometime on Monday. It's the highest the river has been since 1997, a major flood for Louisville. It might be a week before we get the river back down to minor flood stage. (The Featured Image is from New Albany, IN, a city across the river from Louisville)

Odd how this works:
Information from the FBI investigation into the pay-for-play scandal in college basketball has started to leak out to the public. Per Yahoo Sports and other outlets, over 25 schools have been linked to this investigation, including Duke, North Carolina, Kentucky, Kansas, Arizona (where their brilliant head coach was caught on wiretap, offering a recruit $100,000), and yet again, Louisville. I am waiting to see if the NCAA throws the book at some of these schools (looking at YOU, Arizona and UNC!) as hard as they threw it at UofL.
---
Someone 

may have been caulking some cracks in their sister's wall and ceiling, missed 2 steps on a stepladder, and injured their ankle and knee a few weeks ago. Not sure who that would have been but I've heard the stories. By the way, Mueller Sports Medicine is a great place to order braces from. 😉
I am 1/3 of the way through the Spring Semester. I don't have an accurate grade update because one class hasn't graded anything yet, one class hasn't graded work for the last 2 weeks, and a 3rd class hasn't graded last week's exam. Overall, I'm doing OK – not spectacular but not failing – but I'm still playing catch-up with "Telecommunications II". I'm going to ask my boss for a day or 2 off, in the next few weeks, so that I can re-read some early chapters and get back on track with the current work.

After my last weighing (Saturday morning), I am at 234.8 pounds: down about 14 pounds since I moved on Jan. 3rd, the lowest I've been in nearly 3 years, and on my way to my intermediate goal of 230 pounds by April 1st. I'm not sure if "getting better quality sleep" is one of the reasons for the weight loss but "drinking more water", "eating very little fast food", and "cutting back on pops" definitely are. I still plan on walking around the area, now that Louisville's temperatures are in the 50's and 60's.
February 22nd was the 8th anniversary of my heart surgery. I'll end this post with the quote that the doctor that did the surgery told me on the Friday before the surgery.
We are going to perform the surgery on Monday morning. We estimate that you have less than a week left and we can't risk waiting to have the surgery much longer.

---
You are in the on-deck circle, March – make it a great at-bat when you come to the plate!